Seebi Narasimhaswamy Temple
Brief History :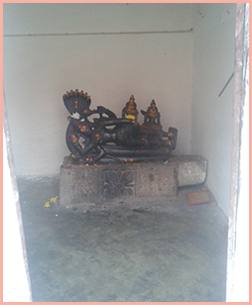 Seebi (Sibi), is a small village, located about 20 kilometres to the north of Tumkur district in Karnataka. Seebi is 24 km south of Sira.
Seebi was the vanaprastra ashram of Shibi Chakravarthy, the grandson of Prahlad Maharaj, for whom Narasimha appeared in person to kill his evil father Hiranyakashipu. Shibi Chakravarthy wanted to worship Lord Narasimha and in return Lord Narasimha enshrined himself as Narasimha Shaligrama here. He is shaped larger than a linga, and is facing north east here. There is no visuals of narasimha and it is the shaligrama that is worshipped. Subsequently, this Shaligrama was also worshipped by Lord Sri Rama, for begetting issues. It is also said that Chandrahasa, the then king of Kuntala also worshipped the Narasimha Shaligrama for removal of obstacles.
In 1797 in the erstwhile Mysore state Fauzdar Nallapa, A brahmin Fauzdar in Mummudi KrishnaRaja Wodeyar, was intending to build a temple in memory of his mother(Alamellamma – who practised sati) and his father Kacheri Krishniah. Narasimhaswamy appeared in a dream to Nallappa and directed him to build a temple and worship him in Seebi as he was not being worshipped. The temple took 10 years to build. The temple is painted with themes of Ramayana, Mahabharatha and Dashavatara which have eroded over time.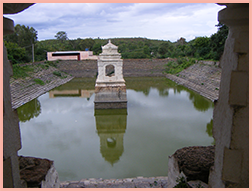 There is a Kalyani (Water Tank) called Gaja Pushkarini near the temple. It is said that the Gajendra Moksha episode happened here.
Goddes Lokamba devi resides in the prakara of the temple. For unmarried boys and girls, there is a strong beleif that if a kalyanostavam is performed she bestows a spouse very fast.
Bramharatotsava is performed on Maasa Nakshatra, poorva palguna nakshatra of Magha Maasa. A grand Jaatre-Festival is conducted 3 days before and 3 days after the Bramharatotsava.
Annual Special Days like Brahmostava, Mahabisheka, Kalyanostava etc :
There are no accomodation facilities available in the temple. However, there is a country club located 5kms from the temple towards Sira, which has excellent facilities.
Lakshmisha son of Nallapa(who is 83 years old as of 2014) is the main contact and the head of the temple. His email ID is fauzdar_tkl@yahoo.com and his contact number is 98456 35186. He will be the blogger.
Around Seebi are the following temples. Siddarbetta (It is said that a piece of Dronachala fell into Siddarbetta while Hanuman was carrying the mountain to Srilanka), Goravana Lakshmi, Devarayana Durga, Bellavi Someshwara and Magodu Ranganatha.
Relevant Photos of the the temple and surroundings.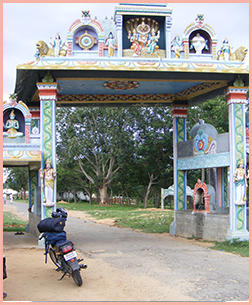 This is the main entrance to Seebi Narasimha Temple. The roads winds in from Sira to Bangalore. If you are likely travelling from Bangalore to Sira, you will have to proceed further about a kilometer and then take a U turn and come back towards Bangalore. The Seebi Temple entrance is on the left side.