MELKOTE TEMPLE
Brief History :
This is a Mujarai temple, managed by Government of Karnataka.
Melkote is a town, located about 35 kilometres to the north west of Mandya in Karnataka. Melkote is 20 km from KR pet. Very easily approachable by Road, Train or Air from Bangalore, Mysore and Mandya.
After the death of his father Hiranyakasipu, Prahlad Maharaj was a bit upset that he was the cause of his fathers death. It is said that Prahalad visited Melkote and found a lot of spiritual vibration on top of the hillock. He placed his shaligrama that he used to regularly worship and after a dip in Varaha kund came to his cave for worship. Suddenly he was astonished as the shaligrama took the form of Yoga Narasimha. The body of Narasimha has Shaligrama Chakras all over.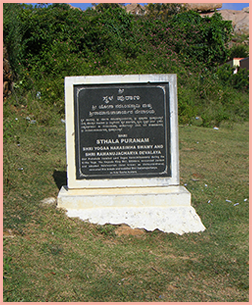 This is visible during Abhisheka. Prahalad was ordained to worship Yoga Narasimha and Prahalad maharaj stayed in Melkote for 12 years and that all his sins associated with the demise of is father would be cleansed. Yoga Narasimha sits on top of Nava Narasimhas. Each of the 9 steps represent individual Narasimhas. The third eye of Narasimha is visible for those who have done a lot of tapas.
There are a total of 365 steps representing one year in days from the bottom of the hillock to Yoga Narasimha. There are Pancha Kalyanis in the main kalyani tank. Lord Rama also worshipped Yoga Narasimha on Melkote.
Near Melkote are many temples. Cheluvaranaraswamy appeared in a dream to Sri Ramanuja and asked him to lift him out of the chandan(Mud). Ramanujacharya then built the Cheluvanarayanaswami temple. Truly, the diety looks very beautiful. Totlu Modlu is a place near the foothills where many who seek children worship the diety there and also take a dip in the flowing waters. Prahalad also installed a Yoga Narasimha Diety at Kere Tonnur behind Nambi Narayana Temple. The uniqueness of this place is that there is a danda or a stick which is always kept on right hand side of the diety, and is used to beat the bad out of people.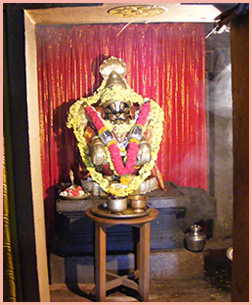 It is said that in the very same place, the jain king Bittideva's daughter was possessed by a Brahmarakshashi. When 1000 Jain priests could not remove the ghost, Ramanuja said that he can. Ramanuja put a mantra and hit on the head of the daughter and immediately the ghost left her. Then all the Jain Priests had to convert to Sri Vaishnavism. They still protested. They challenged Ramanuja with 1000 questions and asked him to answer all the 1000 questions in one answer covering all questions. Ramanuja took his adishesha form with 1000 heads and answered all questions. Inquisitive Jain Priests then pulled out the cloth towel which was screening Ramanujacharya and when they saw the snake many of them died, and the of the rest of them many of them suffered shock and the remaining converted to SriVaishnavism.
There is the original sack that Ramanujacharya used at the very place and is enclosed in a glass case.