Location:
The temple in situated in a cave in Bidar district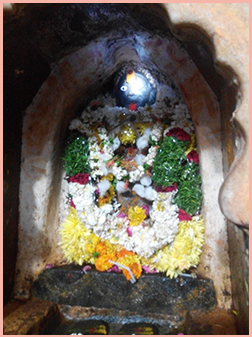 North Karnataka where the water runs up to 300 metres. This temple lies a kilometre away from Bidar city. You have to wade through waist deep water to reach the feet of the deity.
This temple is situated under the Manichoola hill range and it opens at eight in the morning. It is a 300 mtr. length water filled cave temple of Lord Narasimha.,
Unique Feature:
The Narasimha Jhira Cave Temple, dedicated to the powerful Lord Narasimha, and also known by the names of Narasimha Zarna Cave temple and Jharani Narasimha Temple. The idol at Narasimha Jhira Cave temple is a swayambhu roopam – in other words, the deity is self manifested and is very powerful. The fourth incarnation of Lord Vishnu, Lord Narasimha, is half human and half lion.
Every year people flock to this temple in droves to get their wishes fulfilled. This sacred temple is located in a cave in Bidar.
Overview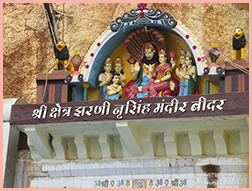 This famous cave temple enshrines the powerful deity Lord Narasimha on the wall at the end of a cave,and it is an architectural wonder. A perennial stream of water is said to be flowing continuously for hundreds of years in this place. It is a thrilling experience to walk through waist deep water for 300 meters through a cave-like tunnel, to seek a view of Lord Narasimha. It is one of the main attractions of Bidar.
The Narasimha Jhira Cave Temple is known for its beautiful architecture and is considered to be very sacred. The temple in situated in a cave where the water runs up to 300 metres
---
Sthala Purana
The temple of Narasimha Jhira has a myth which mentions that the mighty Lord Narasimha first killed Hiranyakashipu and then proceeded to slay the demon Jalasura who was a staunch devotee of Lord Shiva. After being killed by Lord Narasimha, the demon Jalasura turned into water and started flowing down the feet of the Lord Narasimha. And to this day water keeps flowing from lord's feet and fills the cave.
So, to reach the lord we will have to wade through a 300 feet long cave, with water about 4 feet deep. Bats hanging from the cave's ceiling add to the thrill. Lighting and ventilation have been recently installed. You'll need to take a quick bath in the water fountain located outside the Narasimha Jhira Cave temple.
At the the end of the cave houses two deities – Lord Narasimha and a Shiva Linga which the demon Jalasura had worshipped.is seen. Around eight people can stand and watch this spectacular sight as there is very little space here. Others will need to wait in the water.
---
How to Get to Narasimha Jhira Cave Temple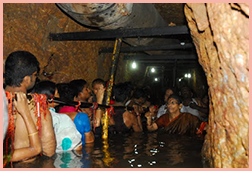 Devotees who visit the cave temple can opt for air, rail or road travel.
Air:
The nearest airport is Begumpet international airport (Hyderabad)(just 120km)
Road:
One can also travel to Gulbarga city from where take a bus to reach Bidar within one and half hours.
By Road:
Regular luxury buses run from Bangalore via Hyderabad on NH 7 and NH9; the journey takes nearly 16 hours.
Train
– Bidar has a major railway station that's well connected to all major cities.
Please share your comments / inputs by submitting the form.
To share the images, please email us at srinarasimhakutumbam@gmail.com with the respective Divyakshetra subject header. Please restrict the no of images to 4 & size within 2 Mb.