Jai Kadari Narasimhaya Namaha
Kadiri
is located in Andrapradesh, rayalaseema near to karnataka.
Off NH 7 – Bellary Road, after the 3rd toll gate from bangalore (First is airport, second is near Bagepalli, third is entrance to Andra). The temple is located about 30 kms from the main road. The distance from Kadiri to Bangalore is about 200 kms and is very well connected by road from Ananthpur, Puttaparthi, hindupur, madanapalli and Bangalore. The best approach to this temple is by road.
The contact details of the main pujari in the temple is called A.D.Narasimhachar archaka. His brother is also the second in command and is called A.D.Parthasarathy Archaka.
Phone number : 08494 222771
This is his home number and he is available usually between 2.30pm and 4.00pm and after 9.30pm.
The blog reporter is called Dr. Shankariah. He is a very prominent doctor in Kadiri and is practising general medicine from 37 years. His son is living in USA and is a pediatrician in Texas called Hari Prasad. He also has installed a Ayyappa temple in Kadiri.
Dr. Shankariah
Phone : 0-94400 17399
Email :- drsankariah@gmail.com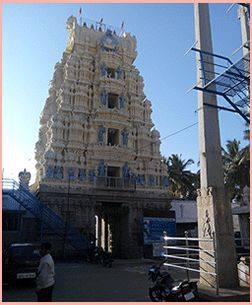 PRATHAMAM VENKATACHALAM DVITIYAM NARASIMHAM is a popular saying in Kadiri.The name of kadiri came from the presence of very many Kaadri plants. This is a chandra "moon" plant.
According to Sri. Parthasarathy when Brighu was doing tapas here, near the pushkarini, Narayana told Bhrigu to lift him out of the pushkarini. The murthy has 8 hands and there is a shanka, chakra, ghadham, khadgam and other arsenals. There is also a big diety of Sri Prahalada near the murthy. Parthasarathy also stressed that this is the main place where the narasimha leela happened in some yuga. This is the moola spot of the nava narasimha temples. The Lakshmi here is called AmruthaValli.
Important Functions and days:
On Swathi Nakshatra the moola diety is given an abhishekam. This is a very big ritual and is very crowded at all times on the Swathi day.
Bramhostavam is on Anuradha Nakshatra in Phalguni Maasa.