ANTARVEDI – History
Lord Srirama along with Sita and Lakshmana were crossing the tail
end of Godavari and near about the confluence of Godavari with the Sagara(Ocean) Rama spotted over a 1000 foxes. He was amazed with the Shakuna (moment) and called that place as shakuneti palli (Auspicious moment village). The current Sakhineti palli is a mispronounciation of the original shakuneti palli. Near Shakhineti palli (18kms) is antarvedi.
Antarvedi can also be reached from Narsapur AP, near Bhimavaram. Till Narsapur by train and from the railway station of Narsapur to a barge crossing godavari. And from the other side to Antarvedi 30 Rs by auto.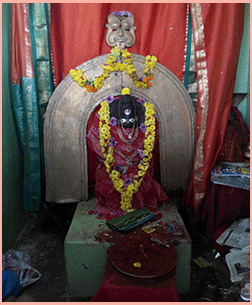 It is said in the puranas that Vasista along with his family used to stay here in the tail end of Godavari. She is considered as auspicious as a cows head in Nasik and the tail end in Antarvedi. (Contains Lakshmi in Cow Dung). Hence this place is considered to be a very prosperous and spiritual place.
Vishwamitra was continuously killing the children of Vasista. Vasista better half suggested to Vasista that they should leave the place and avoild the wrath of Vishwamitra. Vasista then prayed to Lakshmi Narasimha who came along with his sister Gurralakka and killed the demons of Vishwamitra and protected Vasista. It is said that when every drop of blood of the asuras were falling on the ground, another asura used to raise up. Gurralakka came on a horse back and drank all the blood who Narasimha attacked from the air.
It is said that a darshan here will help in a persons health, wealth and in his offspring.
---
Religious fair
The area's religious fair is held on Bheeshma Ekadasi, which is held in January or February.
---
Roadway and waterway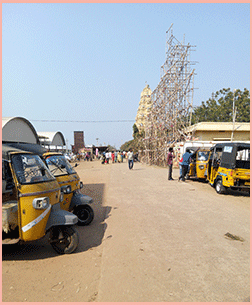 There are three ways that one can travel to Antarvedi. Steam launches are run on the River Godavari Vasistha from Narsapur Ferry. Alternatively, one can cross the river at Narsapur riding on the ferry, upon reaching Sakhinetipalli and from there start for Antervedi by road.
The third option is to cross the Chinchinada river using the newly built bridge, travelling from Narsapur on the Palakol Road until Digamarru and turn for the bridge, which brings you to the East Godavari District. Then proceed to Antervedi by road.
Malikipuram is approximately 18 km from Antarvedi. There are good lodging facilities available in Malikipuram.
The Dindi resorts are situated near Malikipuram.

Contacts
EO Venkata Rao Chikkala
0-9010126977
vraochikkala@yahoo.com
.
0-9491000719 Main archaka
---