Nira Narasinhpur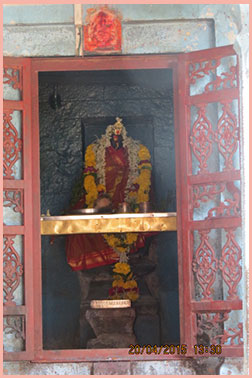 Nira Narasinhpur which is situated in Pune District . It is nearly 35 km. away from its Tahsil Place(Kendra) Indapur. It is the last village of Pune District towards the South-East.
There are Two Rivers flowing by this pretty, small village from one side, there is Nira river and from other side of the village, there is a confluence of both these rivers.
There is also scientific importance about the place Nira-Narasinhpur. The Scientists had studied about this area and it is said that Nira-Narsinhpur is the Middle Place of the Earth. There are many scientific evidences about that This is one of the geographic thruth which also attracted many people to visit Nira-Narsinhpur.
We have an evidence that in the past Lord Ramchandra started his holy yatrays after killing Ravana. Muni Aagasti told him the complete the yatras, so he decided to start it from Nira-Narasinhpur.
It is guiet and very beautiful religious place, so many Munis and Devotee's came here for penance. It is said that Maharshi Vayas also stayed here for some time.It is also the family Diety of the Emperor of very famous vijayanagar and they keep it very safe.There are also some strong evidences available which shows that twice "Swami Samarth Ramdas" visited to Nira-Narsinhpur around the year of 1553, when he and his followers wants to go to Pali from Pandharpur. They came here and performed they Pooja's in Nira-Narasinhpur.
---
Temple of Lord Narasimha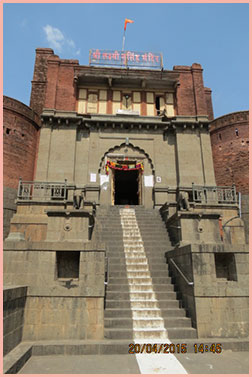 The West side door of the Temple looks very large attractive as well as very beautiful. There are 33 steps to climb to reach in the temple. There are two bastion of the two sides of the wall. There are two large stone carves Elephants carving. If looks like the main structure of the "Shanivarwada" in Pune.
The view of the front side from the west side door is very lovely one can see the beautifully flowing Nira river. Laxmi Ghat. Nirasinh Tirth and beautiful view of the sunset.
---
Idol of Lord Narasimha
There are two idols of Lord Narsinha one is made by Pralhad. himself which is Lord Narasinha which is made of sand. The second one is Shyamraj which was made by Lord Bramhadev himself. It is made of the stone and much live the idol of Lord Narasimha.

Bhakta Prahalad"s Birth
It was said that there was Ashram ( Hermitage ) on the bank of river Bhima in the Nira-Narasinhapur Sati Kayadhu delivered here in the Ashram and Pralhad was born.
At that time Pralhad made penance near the conflunce of river Nira and Bhima. He made an idol of the sand of Lord Narasinha and he devoted himself in Lord Narasinha.
This Idol of Lord Narasinha which was made by Pralhad is now in the temple of Lord Narasinha. It is sits on the thrown. It's face is towards the west. It is totally made of sand. It is in the situation of lap. The Right hand of the idol is on the right knee and left hand is on the wrist. It's face looks like a lion. His chest is broad and eyes are also broad. It's chest, face and wrist looks like as a Lion. But it's hands as well as legs looks like a man.
---
Big Gong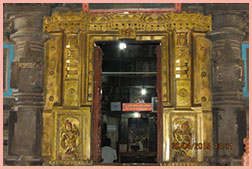 It is situated at west door of the main temple.Behind the Pralhad temple towards the west door of Laxmi Narsinha temple,there is a very big Gong which create very sweet sound in the temple.
"This Gong is sounded on various occasion in the temple."
It is said that there was a person who name was Baba pahilwan,lived in the village who had immense power.It is also said that Baba Pahilwan pick-up this very big Gong with left hand and hooked it up with his only right hand in this temple.
---
Nira- Bhima confluence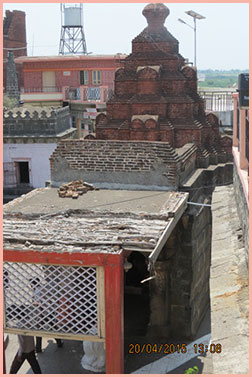 The both at the the confluence of river Nira and Bhima is very important.It is also mentioned in some religious books that the both at this confluence is equally important to take the both at Kashi because both rivers are very clean and tidy.
Both the rivers very clean water.It looks very beautiful in the Rainy season .when they both flow fully .the water level was raise at that time.Bhima is more broad than Nira. But Nira flows very swiftly than Bhima.The sand looks very different of both the rivers .The Bhima's sand look more white and shiny than Nira.The sand of Nira is more blackish. .
---
Address:
Shri. Vilas Ramchandra Dandwate.
At Post Nira Narsinhpur(Via Tembhurni)Dist. Pune
Pin: 413211
Mob: 9420666068
Phone: 02185-257059
www.niranarsingpur.in
---
How to Reach Nira Narsingpur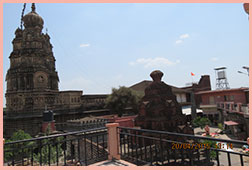 1) By Road —
Nira-Narsinhapur is nearly 155 km away from Pune,its district place.It is only 11 km away from the Tembhurmni which is situated on the National Highway NO 9 i.e. Mumbai—Solapur—Hydrabad .You can came by State Transport Buses from Pune,Mumbai, Solapur, Ahmadnagar, Nashik to Tembhurni and from another bus from Tembhurni which goes to AKLUJ .You can get down at Sangham ,a 1km away from Nira-Narsingpur from Sangham .You can take Auto-Rickshaw which takes you toward main Temple of Lord Narsinha.
2) By Railway —
The nearest railway station is Kurduwadi ,which is heartly 35 km away from Narasingpur.
From Kurduwadi,You can travel by buses or many Private Vehicles are available there.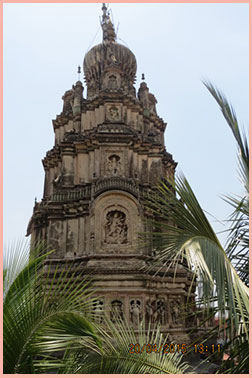 3) By Air —
The nearest Airport is Pune.It is nearly 155 km away from the Nira-Narsingpur.You can take ST buses or Private vehicle that can help you to reach here.There are many rooms are available in the Temple of Lord Narsinha which are built by the Lord Laxmi- Narsinha Temple Trustee.
'The Guest House' of Government of Maharashtra is also available here.
---
Important Places:
The two pilgrim center which are very famous are very famous are near to narsinhpur and one can visit them as well as they are Pandharpur which is nearly 70 km away from the nira- narsinhpur.Other is Tuljapur , which is famous for Lord Shri. Tuljabhavani. 100 km away from here.
---
*Best Period For visit
All the year,one can visit to Nira- Narsinhpur.
In the rainy season .One Can see the full view of flowing water on the confluence of the two rivers Nira and Bhima.
The winter and summer is also exiting atmosphere to visit this ancient place.
You can also take the Holy dip at the confluence in any season all thru year.
Please share your comments / inputs by submitting the form.
To share the images, please email us at srinarasimhakutumbam@gmail.com with the respective Divyakshetra subject header. Please restrict the no of images to 4 & size within 2 Mb.