Sri Devarayana Durga
Brief History :
Yoga Narasimha on top of the hill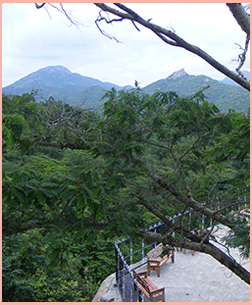 This is a Mujarai temple, managed by Government of Karnataka. Devarayana Durga is located on Karigiri Kshetra in the Tumkur vicinity. It is easily approachable from Tumkur and from Dobbaspet. There are very good facilities for road transport, with many state buses plying frequently. When seen from East this looks like a Elephant(hence called Karigiri), and from South a lion, from West like a snake, and from north like a Garuda.
Bramha during Dwapara yuga is said to have stayed here and prayed for over 2000 years. It is here that Narasimha appeared and gave him a vision of himself with Lakshmi. Even today the vigraha does not touch the ground, and a banana leaf can be easily slide between the linga and the ground. The diety has 2 shaligramas in the mouth. A Vishnu Shaligrama and a Narasimha Shaligrama.
---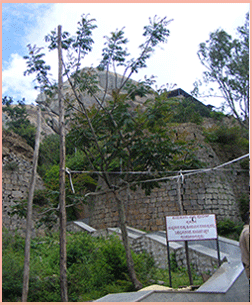 There are 9 major Thirthas in the vicinity. Narasimha Thirtha, Bramha Thirtha, Sripada Thirtha(said to have 108 Thirthas within and also has a swambhu hayagriva in the cave wall), Agastya Thirtha, Kasi Thirtha, Vrushaba Thirtha, Chakra Thirtha, Dhanus Thirtha (Created by Rama and Lakshmana) and Vayu Thirtha. The Sripada Thirtha can cure complex and acute skin diseases.
In the KshetraPurana it is also said that Kakasura was killed here. The steps to the top of the hill were renovated with the blessings of Sri Sri Swayamprakasha Sri Sachidananda Swamiji.
During Dhanu Maasya, even now the Sapta Rishis appear to perform worship of Sri Narasimha during the bramha muhurta, everyday.
---
Bhoga Narasimha on the foot hills :
There is a similar but not identical Diety of Sri Lakshmi Narasimha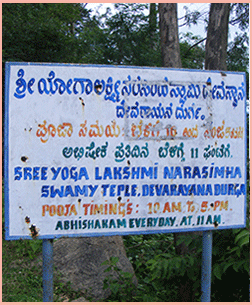 on the foot hills. There are 2 shaligramas in the mouth of Narasimha. A Vishnu Shaligrama and Narasimha Shaligrama.
Durvasa Maha Muni came to visit Bramha and installed the Boga Narasimha after engaging in deep Penance for many years.
The place was earlier called Jatakadurga and Jatakarayana Durga who were brothers. Down the ages it got transformed into DevarayanaDurga.
Bramharatotsava is performed during Holy Pournima. Phalgun Maasa pournami pubba nakshatra day. This is one month after the Seebi Narasimha Jaatre.
During Ratotsava time, for couples wanting to beget children, there is a special prasada called Garuda Buthi. There are many confirmed childless couples who have begotten children after accepting this prasada.
During the Rath Yatra, before the Rath is pulled, during the afternoon time, a Garuda appears on the sky and after 3 circles only the rath is pulled. I have witnessed this spectacle myself.
Both the Yoga and Bhoga Lakshmi Narasimha temples are located in the center of Asta Anjaneyas, Asta Shiva and Asta Vishnu Kshetras.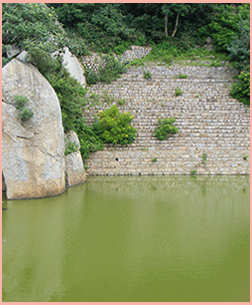 Information about Yoga Lakshmi Narasimha was provided by Sri Narasimha Bhattar who is the pradhana archaka.
The blogger is Sri Venkatesh S/O Mohan Das who resides in Sundaresha Prana Devara Sannidhi. This is more than 100 years old and is located to the left of the temple prasadalaya.
There is a Sanjeevi Raya Swami temple (Hanuman Temple) which is considered as the oldest temple in the Kshetra.
Presently there are no accomodation facilities available on top of the hill. A new Guest house and a new Prasada Hall are being constructed.
Around Devarayanadurga is a popular place called Namada Chilume. When Lord Rama did not have water to put his tilak on he took his arrow and pierced a rock from where water even today continuously flows. The river that flows from here is called JayaMangali river. It is a mix of the Jaya and the Mangala Thirthas located on top of the devarayanadurga mountains.