Pokharni Narasimha Temple
Location: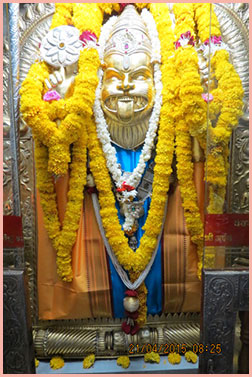 Pokharni is situated about 18 kilometers from Parbhani, a city in the Marathwada region of Maharashtra. Parbhani, known in ancient times as Prabhavatinagar, is situated near the center of Maharashtra state, due east of Mumbai. The Narasimhadeva temple draws throngs of pilgrims from Andhra Pradesh and other surrounding states, who can travel easily by car or rail to this holy site.
---
History:
The presiding Deity, Sri Narasimhadeva, is here with Laxmi Devi, who is situated nearby. While the temple compound is quite large, the Deities' sanctum
(gabhara)
is very small — a 3 foot by 4 foot room. The entrance is equally small, and devotees must squat to see the Lord through a 3 foot high entrance. Just as worship of Lord Nrsimhadeva in Kali Yuga requires great diligence, getting His darshan here at Pokharni is also somewhat difficult.
The Nrsimhadeva temple at Pokarni was built approximately a thousand years ago, around 1000 B.C. to 1300 B.C. The construction is in the Hemadpanthi architectural style. It was built by a king whose girl child was cured of blindness. Although the king wanted to move the Nrsimhadeva Deity residing at Bhaktagan village into the new temple, the villagers refused to allow it. Instead, the beautiful two-armed Deity, holding chakra and conch, was installed at Pokharni.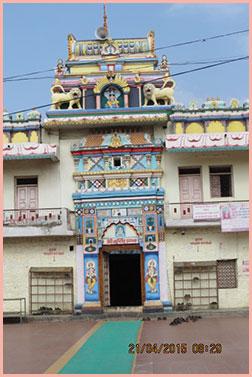 The sanctum sanctorum is built of huge stones and stales, and is situated on the ground floor. In recent years it has been fitted with marble, and other modern cooling and security fittings. Male devotees must remove shirt and belt before entering the main sanctum. Nearby there is a plinth and bathing platform for abhishek. Carved images depict the Lord's pastimes.
The two-armed presiding Deity is standing, in a fearsome mood. The Deity is carved in sandstone (walukashma pashan), ornamented with gold kavacham. This golden mask is also known asmukhawata, and is inlaid with diamonds and gems. Worship of the Lord begins at mangal arotik; He is bathed and dressed in silk. Lord Nrsimha is said to look like a baby in the morning, like a youth in the afternoon, and old in the evening. The program of worship here is known as shashwat maha pooja, or 'eternal adoration'.
Lord Nrsimhadeva has a beautifully decorated sleeping room at the front of the sanctum, where a teak diwan and silk bed are located.
---
Other Special Shrines:
Outside the temple's main door are shrines for Mahadeva, with Nandi, and Sri Ganesh. Another Mahadeva and Ganesha temple are situated on the back side of the
sabha-mandapam
, on the west side. There is a large temple tank in the compound, broad and deep, situated on the west side of the temple. There is a small shrine in the north side wall.
---
Uniqueness Of this Shrine:
Temple records state that after killing Golasura on the Indrayani Mountain, Lord Nrsimha came to Pushkarni with saptaganga jal (the waters of seven holyd rivers), and poured it here. Thus, there is no shortage of water even in dry season.
---
Transport Facilities: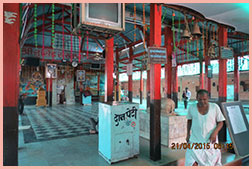 BUS : Many private operators are available from places such as Pune and Mumbai. Private buses are relatively comfortable and they are generally in semi sleeper format. Tickets from Pune to Parbhani cost around Rs 300 for the trip. A/C buses are available as well and they cost Rs 500 from Pune to the city of Parbhani.
Train : The place is connected to many of the cities in the state by rail. There are regular services that are available from places such as Mumbai, Delhi, Hyderabad, and Bangalore, Pune, Nashik, Manmaud and many other places. Ticket prices depend on the distance. Trains are the most comfortable mode of transport and most trains have A/C compartments as well.
Air : The nearest airport is located at Nanded and there are a few regular flights that operate to Mumbai. Flights operate for 4 days a week and it is located around 60 km from the city of Parbhani. Taxis can be hired from the airport to reach the city.
---
Contact Person: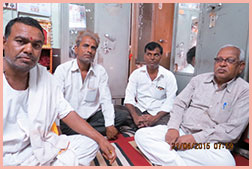 Manchakrao R.wagh – Trustee
Address:
Pokharni (N) Tq & Dist Parbhani- 431521
Ph: 02452267012 Mob: 9673112384, 9158602612,9637013412
www.narsimhapokharni.com
Please share your comments / inputs by submitting the form.
To share the images, please email us at srinarasimhakutumbam@gmail.com with the respective Divyakshetra subject header. Please restrict the no of images to 4 & size within 2 Mb.