Poovarasankuppam is a very famous Lakshminarasimha Kshetra situated at Villupuram, Tamilnadu.
---
Legends
It is said that for the first time, after the Hiranya Samharam at
Ahobilam, Lord sriNarasimha appeared at Poovarasankuppam in the same form and gave Darshan to the Sapta Rishis as Lakshmi Narasimha. Hence, the Importance Of The Temple:
One who Cannot have Darshan Of Narasimha At Ahobilam, Andhrapradesh Can Have The Blessings By Visiting This Kshetra In Puvarasankuppam. This Is Called South Ahobilam. One Eye Of Lakshmi Directed Towards Lord And The Other Graces Devotees.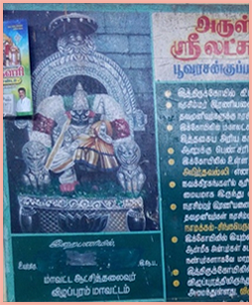 Poovarasan Kuppam temple is referred to as 'Dakshina Ahobilam'.
One Among The 4 Srinarasimha Temples Around Villupuram
Poovarasankuppam is one among the four Narasimha Kshetras around Villupuram (the other 3 being Anthili, Parikkal and Singiri). It is considered very auspicious and effective to visit the three Narasimha temples – Parikkal, Poovarasan Kuppam and Singiri, that are in one line near Villupuram. It is known that the 2 Narasimha Kshetras – Singiri Narasimha and Parikkal Narasimha, which are in a straight line, are facing the PoovarasanKuppam Narasimha.
One Of The Eight Srinarasimha Temples In Tamilnadu
Poovarasankuppam is one of the 8 temples in Tamil Nadu, where Lord sriNarasimha gave Darshan, after having killed the demon Hiranya Kashipu. The other 7 temples are Singarakudi (near Pondicherry/Cuddalore), Anthili (near ThiruKovilur), Parikkal (near Kedilam), Sholingur, Nammakkal, Singaraperumal Koil (near Chengalpet) and Sinthalavadi.
---
History
This temple seems to be very ancient. There are inscriptions inside this temple dating back to the 3rd Century AD. Also, there are references to construction during Narasimha Pallava's reign (7th Century AD). There are also inscriptions indicating Krishna Deva Raya's visit to this temple (about 500 years ago).
---
Deity
Moolavar:
LakshmiNarasimha Swamy (East Facing Sitting Posture)
Thaayar:
Amritha Valli Thaayar
The main deity of this temple is LakshmiNarasimha Swamy. A unique feature here is the posture of the divine Mother Mahalakshmi, who is seated on the lap of Lord sriNarasimha. One eye of this Goddess is towards the Lord and the other eye is affectionately towards devotees. Also, interestingly the deities of Lord sriNarasimha and Goddess Lakshmi (seated on Lord sriNarasimha's lap) are of same height at this temple.
---
Significance
This Kshetra is considered a very powerful Prarthana Sthalam.
It is believed that on visiting this temple and offering a 48 day prayer, one can get rid of all debts and enemies. All wishes are fulfilled if one visits this temple, lights a ghee lamp and recites the Mantra Raja Patha Stotram twice a day for 48 days. It is also a custom to tie a 5 rupee coin to a Manjal cloth and drop it at the temple once the 48 day period is over. One should also prepare Panagam (prepared out of jaggery) every day for the Lord. No non-vegetarian food should be consumed during this 48 day period.
---
Festivals/Worship
Swathi Nakshatram
It is auspicious to visit this temple every month on Swathi Nakshatram, when Sudarshana and Dhanvantri homams are performed.
Navaratri
Sri Sukta Homam is performed on all the 9 days of Navarathri Utsavam
Procession in Thai
Lord Narasimha takes a 1 km to South Pennai river for Theerthavari on the 5th day of the Tamil Calendar month of Thai
SriNarasimha Jayanti Utsavam and 3rd Saturday of Puratasi Month are also special occasions at this temple.
---
Temple Timings
Morning – 8 am to 12.30 pm
Evening – 4 pm to 8 pm
---
How To Reach
Contact –
Executive Officer
Arulmigu Lakshmi Narashima Swamy Temple
Poovarasankuppam,
Villupuram-605105
Phone: 9944238917, 9786518444
Parthasarathy Bhattar – 94439 59995 or 0413 2698191
---
Route –
Located about 18kms North of Panruti and 18kms East of Villupuram.
From Villupuram,
Take Pondy Highway, drive straight towards East from Koliyanur Cross Road, take a right at Valavanur, drive 6kms to Siruvanthadu and go further South 3kms to reach the temple- Share Auto/Auto available from Siruvanthadu
(OR)
Take a right at Koliyanur Cross Road on to the Panruti-Kumbakonam highway, cross the Villupuram-Pondy railway line and take a left at Panchamadevi to reach the temple (about 7kms from the main road)
From Panruti,
Take Kumbakonam-Vikravandi highway, drive 10kms and take a left at Panchamadevi to reach the temple (about 7kms from the highway towards East)
From Madras,
Take a left at Vikravandi(145kms from Madras) into the Kumbakonam Highway, go further South after the Villupuram-Pondy cross road, cross the railway line and take a left at Panchamadevi to reach the temple (about 7kms from the main road)
---
By Bus
– There are direct buses to Poovarasan Kuppam from Villupuram, but it is better to take a bus from Villupuram to Vilavanur.
Please share your comments / inputs by submitting the form.
To share the images, please email us at srinarasimhakutumbam@gmail.com with the respective Divyakshetra subject header. Please restrict the no of images to 4 & size within 2 Mb.