Punya Kshetra
---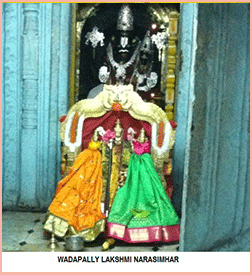 KSHETRA denotes a holy signifanct place of worship.
In common language kshetra may denote a place where there is a temple or
sacred, religious or dharmic importance. As Puranas cleary define and proves both yantras and mandalas are kshetras.
Kshetra which holds the immense vibration and true bhakti for the divinity . Investigation carders forum right here here you have in this case. It is the ultimate truth for a bhakta or a devotee to visit Punya Kshetras.
PUNYA KSHETRA are the temples which has Sthala Purana, praised by alwars and great sages….
Andhra Pradesh – Chittur
S.No

Village /Town Name
District Name
Deity Name
Temple Name
Location
1
Chandragiri
Chittur
Samhara Narasimha Swamy
Samhara Narasimha Swamy Temple
14 Km from Tirupathi (Chandragiri Fort)
2
Chinna Tippa Samudram
Chittur
Lakshmi Narasimha swamy
Lakshmi Narasimha swamy Temple
14 kms distance from madanapalle town
3
Chintaparti
Chittur
Ahobaleshwara Swamy
Ahobaleshwara Swamy Temple
Between Dharamavaram and Pakala Railway Line
4
Develampeta
Chittur
Lakshmi Narasimha Swamy
Lakshmi Narasimha Swamy Temple
3 Km from Pulicherla Railway Station
5
Ellava Nellore
Chittur
Narasimha Swamy
Narasimha Swamy Temple
Between Punaganuru and Srinivasapuram Road
6
Kondamarry
Chittur
Narasimha Swamy
Narasimha Swamy Temple
Between Punaganuru and Kalluru Bus Route
7
Kottavaripalli
Chittur
Narasimha Swamy
Narasimha Swamy Temple
Between Madanapalli and Chembakur
8
Tarigonda
Chittur
Lakshmi Narasimha Swamy
Lakshmi Narasimha Swamy Temple
98 Km from Tirupati
Mahbubnagar
S.No

Village /Town Name
District Name
Deity Name
Temple Name
Location
1
Bhirukhanpalli
Mahbubnagar
Narasimha Swamy
Narasimha Swamy Temple
19km from Shaadnagar
2
Chimanaguntapulli
Mahbubnagar
Lakshmi Narasimha Swamy
Lakshmi Narasimha Swamy Temple
Near Kumakagutta Venkateshwara Temple
3
Ippatur
Mahbubnagar
Yadagiri Narasimha Swamy
Lakshmi Narasimha Swamy Temple
12km from Mahbubnagar
4
Kanusanipalli
Mahbubnagar
Narasimha Swamy
Narasimha Swamy Temple
16km from Shaadnagar
5
Koyalakonda
Mahbubnagar
Namala Narasimha Swamy
Narasimha Swamy Temple
21km from Shaadnagar
6
Mahbubnagar
Mahbubnagar
Lakshmi Narasimha Swamy
Lakshmi Narasimha Swamy Temple
In the hill at Mahbubnagar
7
Mamillapalli
Mahbubnagar
Samhara Narasimha Swamy
Narasimha Swamy Temple
Achampet Taluk
8
Tallakondapalli
Mahbubnagar
Lakshmi Narasimha Murthy
Lakshmi Narasimha Swamy Temple
29km from Kalvakurthy
9
Shantapur
Mahbubnagar
Narasimha Swamy
Narasimha Swamy Temple
24km from Shaadnagar
10
Singawatnam
Mahbubnagar
Lakshmi Narasimha Swamy
Lakshmi Narasimha Swamy Temple
19Km from Kollapur
11
Vanaparthy
Mahbubnagar
Gajjala Dasu Narasimha Swamy
Narasimha Swamy Temple
56Km from Warangal
12
Yendabetla
Mahbubnagar
Lakshmi Narasimha Swamy
Lakshmi Narasimha Swamy Temple
2 KM from Nagarkurnool
13
Solipur
Mahbubnagar
Narasimha Swamy
Narasimha Swamy Temple
46 km From Mahbubnagar
East Godavari
S.No

Village /Town Name
District Name
Deity Name
Temple Name
Location
1

Eedarada

Lakshmi Narasimha Swamy
Lakshmi Narasimha Swamy Temple
Mamidikuduru mandal
2

Koorukonda

Lakshmi Narasimha Swamy
Lakshmi Narasimha Swamy Temple
3

Korumilli

Lakshmi Narasimha Swamy
Lakshmi Narasimha Swamy Temple
Kapileswarapuram mandal
4

Puttakondu

Lakshmi Narasimha Swamy
Lakshmi Narasimha Swamy Temple
Pedapuri mandal
5

Antharvedi

Lakshmi Narasimha Swamy
Lakshmi Narasimha Swamy Temple
Nalgonda
S.No

Village /Town Name
District Name
Deity Name
Temple Name
Location
1

Shapalle

kamaladari lakshminarashima swamy
Lakshmi narashima swamy temple
Narkot palle mandal
2

Bhujilapural

srivishwaksha narashima swamy
Lakshmi narashima swamy temple
Metkar mandal
3

Masthyagiri

Masthyagiri narashima swamy
Lakshmi narashima swamy temple
Valigonda mandal
4

Kakireni

Sri Narasimha swamy
Lakshmi narashima swamy temple
Ramanapeta mandal
5

Palem

sri sundara lakshmi narashima
Lakshmi narashima swamy temple
Nakarekal mandal
6

Aravapalle

yoganandalakshminarashima
Lakshmi narashima swamy temple
Aravapalli mandal
7

Jajireddy Gudem

yoganandalakshminarashima
Lakshmi narashima swamy temple
Aravapalli mandal
8

Gotti Parthi

sri lakshminarashima swamy
Lakshmi narashima swamy temple
Tungaturthi mandala
9

Kukkadam

sri lakshminarashima swamy
Lakshmi narashima swamy temple
Tungaturthi mandala
10

Kandagatla

sri lakshminarashima swamy
Lakshmi narashima swamy temple
Atmakuru mandal
11

Ajilapuram

sri bugga lakshminarashima
Lakshmi narashima swamy temple
Marrigudam mandala
12

Burugagadda

Adivaraha lakshminarashima
Lakshmi narashima swamy temple
Huzurnagar mandal
13

Koratikallu

sri lakshminarayana
Lakshmi narashima swamy temple
Munugodu mandalam
14

Madahanapur

sri lakshminarashima swamy
Lakshmi narashima swamy temple
Chintapalli mandala
15

Repala

sri lakshminarashima swamy
Lakshmi narashima swamy temple
Munagala mandal
16

Salakanooru

sri lakshminarashima swamy
Lakshmi narashima swamy temple
Vemulapalli mandal
17

Sarampeta

sri kambala narashima swamy
Lakshmi narashima swamy temple
Marrigudam mandala
18

Sarvelu

sri lakshminarashima swamy
Lakshmi narashima swamy temple
Narayapuram mandala
19

Sirikonda

sri lakshminarashima swamy
Lakshmi narashima swamy temple
Mothe mandal
20

Tungapatigowraram

sri chali dona lakshminarashima
Lakshmi narashima swamy temple
Nampally mandal
21

Undrugonda

Undrugonda lakshminarashima
Lakshmi narashima swamy temple
Undrugonda mandal
Nellore
S.No

Village /Town Name
District Name
Deity Name
Temple Name
Location
1
Gandavaram
sri lakshminarashima swamy
Lakshmi narashima swamy temple
Kodavalaru Manalam
2
Kalva Konda
sri lakshminarashima swamy
Lakshmi narashima swamy temple
Chilukur Mandalam
3
Nallagundla
sri lakshminarashima swamy
Lakshmi narashima swamy temple
VindyaMooru Mandalam
4
Tiruveedhipadu
Obuleshwara Swamy
Lakshmi narashima swamy temple
Dagadatti Mandalam
5
Udayagiri
sri lakshminarashima swamy
Lakshmi narashima swamy temple
Udayagiri Mandalam
6
Penchalakona
Sri Penusila Lakshmi Narasimha Swamy
District Prakasam
S.No

Village /Town Name
District Name
Deity Name
Temple Name
Location
1
Konizedu
sri lakshminarashima swamy
Lakshmi narashima swamy temple
Tanguturu Mandalam
2
Ongle-Maripudi
sri lakshminarashima swamy
Lakshmi narashima swamy temple
Marripudi Mandalam Ongole District
3
Malyadri
Sri Malyadri Lakshmi narasimha swamy
Lakshmi Narashimaswamy temple
Valletivaripalem Mandal, 34Kms from Kandakuru is Malakonda
4
Ongle-Chodavaram
Sri ChenchuLakshmiSametha Narasimha Swamy
Sri Lakshmi Narasimha Temple
Kondepe Mandalam 15 Km from Tanguturu
5
Ongle-Narava
sri lakshminarashima swamy
Lakshmi narashima swamy temple
Giddaluru mandal, 4 Km from Giddaluru
6
Ongle-Giddaluru
Sri Adilakshmi, ChenchuLakshmisametha Narasimhaswamy
Sri Lakshmi Narasimha Temple
Giddaluru Post, Mandal
7
Prakasham-PeddhaDornala
sri lakshminarashima swamy
Lakshmi narashima swamy temple
Peddha Dornala Village, Mandal
8
Ummadivaram
Sreedivi, Bhudevi saetha sri Ugra narasimha swamy
Lakshmi narashima swamy temple
28Kms from Vinukonda,Tripurantakam Mandal
9
Guntur-Ravulapuram
Sri Mannepalli NrusimhaSwamy
Lakshmi narashima swamy temple
Bollapalle Mandalam, Ravulapuram Post
10
Prakasam-SingarayaKonda
sri lakshminarashima swamy
Lakshmi narashima swamy temple
Addanki Mandalam, Prakasam district
11
Addanki
sri lakshminarashima swamy
Lakshmi narashima swamy temple
Addanki Mandalam, Prakasam district
12
Gogineni Vani Palem
sri lakshminarashima swamy
Lakshmi narashima swamy temple
13
Malakonda
Sri Malyadri Lakshmi Narasimha Swamy
West Godavari
S.No
Place
Deity
Address
1
Teeparru
sri lakshminarashima swamy
Lakshmi narashima swamy temple
Peravali Mandalm
2
Relangi (Appalayapalem)
sri lakshminarashima swamy
Lakshmi narashima swamy temple
Between Tanuku and Bhimavaram, Eragavaran
3
Vijjeswaram
Sri Yogananda Lakshmi Narasimha Swamy
Lakshmi narashima swamy temple
6 Kms from Niddadavolu Mandalam
4
Vijjeswaram Village
Sri Vasishta Lakshmi Narasimha Swamy
Lakshmi narashima swamy temple
6 Kms from Niddadavolu Mandalam
5
Gootla
Sri Abhaya Lakshmi Narasimha Swamy
Lakshmi narashima swamy temple
15 km away Koovuru, Polavaram Mandal
Guntur
S.No
Place
Deity
Address
1
Nallapadu
Sri Pushpadri Lakshmi Narasimha Swamy
Lakshmi narashima swamy temple
7 kms towards west Guntur Mandalam
2
Ramachandrapura Agraharam
Sri Rajyalakshmi sametha Lakshmi Narasimha Swmay
Lakshmi narashima swamy temple
Ramachandrapura Agraharam, Nearby marketSri
3
NakreKallu
Sri ChenchuLakshmi Sametha Narasimha Swamy
Lakshmi narashima swamy temple
20 Km from Narsaraopet
4
Viprulapalle
sri lakshminarashima swamy
Lakshmi narashima swamy temple
Rompicherla Mandalam
5
Chilakaluripet
Sri PinakaHastha Lakshmi Narasimha Swamy
Lakshmi narashima swamy temple
Komarivallipaduvillage, ChilakularipetaMandal
6
Yadlapalle
Sri Yogananda Lakshmi Narasimha Swamy
Lakshmi narashima swamy temple
7 kms towards west from Tenali
7
Tottempudi
Sri Bhara Gadapa Lakshmi Narasimha Swamy
Lakshmi narashima swamy temple
10 km away ponnur, Chundur Mandalam
8
Burripalem
Sri BhuLakshmi Narasimha Swamy
Lakshmi narashima swamy temple
5km towards east of Tenali Mandalam
9
Gudavalli
Sri RajyaLaksmiSametha Narasimha Swamy
Lakshmi narashima swamy temple
9km away Bhattiprolu Railwaystation
10
Alluru
sri lakshminarashima swamy
Lakshmi narashima swamy temple
Pittalavanipalem mandalam, From Kazipalem
11
Yaajali
sri lakshminarashima swamy
Lakshmi narashima swamy temple
14km away Bapatla, Karlaplem Mandalam
12
Chebrolu
sri lakshminarashima swamy
Lakshmi narashima swamy temple
In between Guntur and Ponur, Chebrolupost
13
Ponnur
sri lakshminarashima swamy
Lakshmi narashima swamy temple
 33Kms towards southfrom Tenali, ponnurmandal
14
Guntur
sri lakshminarashima swamy
Lakshmi narashima swamy temple
Krishna District
S.No
Place
Deity
Address
1
Gudur
Sri Rajyalakshmi sametha Lakshmi Narasimha Swamy
Lakshmi narashima swamy temple
7Km from Machalipatnam, Gudur Mandal
2
MachliPatnam
sri lakshminarashima swamy
Lakshmi narashima swamy temple
1/2 km away from Machlipatnam Railway Station
3
Penuganchiprolu
Sri Dharmapuri YoganandaLakshmiNarasimha swamy
Lakshmi narashima swamy temple
10Km away from Nandigama
4
Singarayapalem
sri lakshminarashima swamy
Lakshmi narashima swamy temple
18 Km from Gudivada, Mudinepalle Mandalam
5
SaiPuram, PuraAgraharam
Sri Swayambu Kalyana Lakshmi Narasimha Swamy
Lakshmi narashima swamy temple
from Vuyyuru-10km, Vuyyuru Mandalam
6
ChagantiPadu
Sri Narasimha Yantra Sthambam
Lakshmi narashima swamy temple
From penamakuru-2km, TotlaValluru mandal
7
Aggiripalli
Sri Shobanachala VyagraLakshmi Narasimha Swamy
Lakshmi narashima swamy temple
AgiriPalle Post, Mandalam
8
Garudachalam
Cuddapah
S.No
Place
Deity
Address
1
Bhuvanagiri
Sri lakshminarashima swamy
Lakshmi narashima swamy temple
Nandaluru to rajampetta,Mandal
2
Bokka Patnam
Sigakondala sri prasana lakshmi narashima swamy
Lakshmi narashima swamy temple
Kadapa to pradatoor to booka patnam
3
Erri Papai Gari Palle
Kasalagutta sri lakshminarashima swamy
Lakshmi narashima swamy temple
Yerripapalipalli village, nandaluru mandal
4
Narshimha Poram
Sri Lakshmi Narashima Swamy
Lakshmi narashima swamy temple
Narashimapuram Post, Proddutooru Mandal
5
Pata Sangati Palle
Sri Stambod Bava Lakshmi Narashima Swamy
Lakshmi narashima swamy temple
Pendlimerri Mandal
6
Veyyi Nootala Kona
Lakshmi Narashima Swamy
Lakshmi narashima swamy temple
Veyyinutalakona Challo Palli Mandal
7
Jalla Vandala Palli
Lakshmi Narashima Swamy
Lakshmi narashima swamy temple
8
Kalludla
Lakshmi Narashima Swamy
Lakshmi narashima swamy temple
9
Pedda Moodiyam
YOGANANDA NARASHIMA SWAMY AND UGRA NARASHIMA SWAMY
10
Potti Paadu
Lakshmi Narashima Swamy
Lakshmi narashima swamy temple
11
Venkaiah Kaluva
Lakshmi Narashima Swamy
Lakshmi narashima swamy temple
Anantapur
S.No
Place
Deity
Address
1
Penna Ahobilam
Sri lakshminarashima swamy
Lakshmi narashima swamy temple
Penna Ahobilam is 12 Km from Uravakonda and 36 km from Anantapur Town
2
Cheeyedu
Sri Lakshmi Narashima Swamy
Sri Narasimha & Anjaneya Swamy Temple
Chiyyedu, Anantapur Mandal, Anantapur
3
Marur
4
Pampanuru
5
Kadiri
Lakshmi Narasimha Swamy
Khadri Lakshmi Narasimha Swamy Devasthanam
Kadiri, Ananathapur Dist
6
Kadiri Konda
7
Ekapadampalle
8
Thimmanacheruvu
9
Thadiptri
10
Obulapuram
Kona Lakshmi Narasimha Swamy
Lakshmi narashima swamy temple
Obulapuram, Owk, Kurnool
11
Nagasamudram
Kadiri Narasimha Swamy
Lakshmi narashima swamy temple
Nagasamudram, Guntakal, Anantapu
12
Venkatampalle
13
Chitdula
Khammam
S.No
Place
Deity
Address
1
Nagulavancha
gajagiri lakshmi narashima swamy
panakala swamy
20kms from nagulavancha
2
Mudigonda
sri lakshmi narashima swamy
lakshminarashima swamy temple
between khamman and kodada 13kms
3
yadavalli
yogananda lakshmi narashima swamy
lakshminarashima swamy temple
khamman tallampadu or mudigonda
4
pataralapadu village
yogananda lakshmi narashima swamy
lakshminarashima swamy temple
25kms from khamman to warangal road
5
Nehru nagar
sri lakshmi narashima swamy
lakshminarashima swamy temple
khamman town
6
Kalluru
sri lakshmi narashima swamy
lakshminarashima swamy temple
50kms from khamman
7
Garlavoddu
sri lakshmi narashima swamy
lakshminarashima swamy temple
khamman 35kms tallada 10kms garlavoddu
8
Chimmapadi
sri lakshmi narashima swamy
lakshminarashima swamy temple
15kms from chimmapadi
9
Nayakula Gudem
sri lakshmi narashima swamy
lakshminarashima swamy temple
khamman ellandu rompedu nayakulagudem
10
KSM College Palavancha
sri lakshmi narashima swamy
lakshminarashima swamy temple
khamman kothaguden 6kms palavancha
11
Bhadrachalam
yogananda lakshmi narashima swamy
lakshminarashima swamy temple
between Rama temple and Godavari river
12
Bhadrachalam 2
sri lakshmi narashima swamy
lakshminarashima swamy temple
southwest corner of rama temple
13
Khammam
sri lakshmi narashima swamy
lakshminarashima swamy temple
120km from vijayawada
Srikakulam
S.No
Place
Deity
Address
1
Borivanka
sri lakshmi narashima swamy
lakshminarashima swamy temple
10kms from sompet 15kms from icchapuram
2
Chetlatandra
paravastu iyyagaru samadhi
lakshminarashima swamy temple
6kms from tekkali
3
Subbammapeta/kovelapeta
sri lakshmi narashima swamy
lakshminarashima swamy temple
10kms from tekkali 1km from nandigam
4
Tekkali
sri lakshmi narashima swamy
lakshminarashima swamy temple
main road
5
Tilari junction
sri lakshmi narashima swamy
lakshminarashima swamy temple
near railway station
6
Vaadada
sri lakshmi narashima swamy
lakshminarashima swamy temple
6kms from srikakulam
7
Chintada
yogananda lakshmi narashima swamy
lakshminarashima swamy temple
nandagiri-kondapeta
8
Srikurmam
sri lakshmi narashima swamy
sri kurmanatha temple
11kms from srikakulam
Vishakapatanam
S.No
Place
Deity
Address
1
Bhimlapatnam
Sri Narayana Narasimha swamy
lakshminarashima swamy temple
30km from vizag. On the hilltop of beach Bhimli
2
vadadi
sri lakshmi narashima swamy
lakshminarashima swamy temple
Anakapalli———-chodavaram——15km —vadadi
3
Kasimkota
Sri varaha lakshmi Narasimha swamy
lakshminarashima swamy temple
5kms away from Anakapalle
4
Arjunagiri
Sri varaha Lakshmi Narasimha VaibhogaRaya Swamy
lakshminarashima swamy temple
Anakapali—- Chodavarm—- 1o km—- Arjunagiri
5
Dharapalem
Sri varaha Narasimha Swamy
lakshminarashima swamy temple
Anakapalle—–Yalamanchili—-10km Dharapalem
Karimnagar
S.No

Village /Town Name
District Name
Deity Name
Temple Name
Location
1

Dharmapuri

Sri Yogananda Narasimha Swamy
27 KM from Jagityala
2

Bejjanki

Sri Lakshmi Narasimha Swamy
25 kms from Siddipet towards Karimnagar
3

Bheerpur

Sri Lakshmi Narasimha Swamy
From Dharmapuri via Dhonavuru, From Jagityala via Penbettlakonapur, Sarangapur
4

Bijjagheer

Sri Lakshmi Narasimha Swamy
From Karimnagar via Huzarabad, Jammikunta
5

Devunipalle Konda

Sri Lakshmi Narasimha Swamy
From Peddapalli via Andugulapalle (2 km from here)
6

Dumpeta

Sri Lakshmi Narasimha Swamy
From Jagityala via Korutla, Dumpeta (12 kms)
7

Ganneruvaram

Sri Lakshmi Narasimha Swamy
From Karimnagar towards Vemulavada, via Venkatraopat, Manwada, Potur – Ganneruvaram
8

Kodurupaka

Sri Lakshmi Narasimha Swamy
14 kms from Peddapalli
9

Medipalli

Sri Yogananda Lakshmi Narasimha Swamy
11 kms from Jagityala towards Korulta
10

Moolasala

Sri Lakshmi Narasimha Swamy
111 km from Peddapalli
11

Nallagonda

Sri Lakshmi Narasimha Swamy
From Karimanagar via Puduru, From Vemulavada to Karimnagar
12

Namilikonda

Sri Lakshmi Narasimha Swamy
23 km from Karimanagar via Jagityala
13

Namapally

Sri Lakshmi Narasimha Swamy
2 kms from Velmulavada
14

Narasimhapalli

Sri Lakshmi Narasimha Swamy
From Karimnagar via Kothapalli, Vedhira, Ramadugu, Kotla Narasimhapalli
15

Nimmanapalle

Sri Lakshmi Narasimha Swamy
14 kms from Peddapalli
16

Peddapuram

Sri Yogananda Lakshmi Narasimha Swamy
From Peddapalli via Nimmanapalli, Kachapur, Vadakapur, Julapally, Peddapur. From Karimnagar via Nagunuru, Rukmapur, Chakunta, Kolimikunta
17

Ramancha

Sri Lakshmi Narasimha Swamy
From Karimanagar via Kothapalle, Mulkanuru
18

Ratnagiri

Sri Lakshmi Narasimha Swamy
From Hanumakonda via Mulkanuru; 10 kms from Huzarabad
19

Shanigaram

Sri Lakshmi Narasimha Swamy
20 kms from Siddipet towards Karimnagar
20

Sundilla

Sri Yogananda Lakshmi Narasimha Swamy
6 kms from Godavarikhani
21

Thumguru

Sri Lakshmi Narasimha Swamy
Thumguru, Bheerpur mandal, Jagityala district
22

Vellulla

Sri Prahlada Sahitha Lakshmi Narasimha Swamy
3 kms from Metpalli
Medak
S.No

Village /Town Name
District Name
Deity Name
Temple Name
Location
1

Angadikistapur

Sri Lakshmi Narasimha swamy
From Hyderabad via Pragnapur – Angadikistapur
2

Hastalpur

Sri Lakshmi Narasimha swamy
From Medak via Chettipalli, Ramayyapalli, Uppulingapur and Veldurthi
3

Jakkannapeta

Sri Lakshmi Narasimha swamy
15 km away from Medak via Bodhan
4

Nachaaram Gutta

Sri Lakshmi Narasimha swamy
6 KM away from Tupran
5

Pulluru

Sri Lakshmi Narasimha swamy
From Siddipeta via Gadicherlapalli, Bandacharlapalli
6

Ramayampet

Sri Lakshmi Narasimha swamy
From Kamareddy via Bikkanuru. From Medak via Akkannapeta
7

Rameswaram Banda

Sri Lakshmi Narasimha swamy
5 kms from Patancheru
8

Sikindlapur

Sri Lakshmi Narasimha swamy
14 KM from Medchal via Kallakal
9

Sreegiripalle

Sri Lakshmi Narasimha swamy
From Secunderabad via Pragnapur
Nizamabad
S.No

Village /Town Name
District Name
Deity Name
Temple Name
Location
1

Balkonda

Mudgala Lakshmi Narasimha Swamy
10 km from Armoor towards Nirmal
2

Kolipyak

Sri Anandagiri Lakshmi Narasimha Swamy (Madvaraayala Gutta)
13 km from Armoor (via Bhramanapalle, Thorlikonda),
30 km from Nizamabad (via Ditchpally, Chakralapalle)
3

Bheemagal

Sri Yogananda Lakshmi Narasimha Swamy
From Armoor via Velvooru, From Armoor via Chemgal
4

Binola

Sri Lakshmi Narasimha Swamy
From Nizambad via Nabhipet, Gandhinagar
5

Janakampet

Sri Lakshmi Narasimha Swamy
From Nizambad towards Basara
6

Manikbandar

Aghora Lakshmi Narasimha Swamy
6 km from Nizamabad via armoor, on Nagpur highway near Vijay Rural engineering college
7

Dharpalli

Sri Lakshmi Narasimha Swamy
From Nizamabad via Indalvai
8

Chukkapur

Sri Lakshmi Narasimha Swamy
177 km from Kamareddy via Karimnagar
Karnool
S.No

Village /Town Name
District Name
Deity Name
Temple Name
Location
1
Karnool
Karnool
Yoga Narasimha Swamy
Yoga Narasimha Swamy Temple
Near to Gopaldharwaza
2
Gaajulapalle
Karnool
Lakshmi Narasimha Swamy
Sri Sarva Lakshmi Narasimha Swamy Varu Temple
Near Nandhyala (Hill Temple)
3
Nallakaluva
Karnool
Lakshmi Narasimha Swamy
Lakshmi Narasimha Swamy Temple
Near to Atmakuru
4
Madduleti
Karnool
Lakshmi Narasimha Swamy
Lakshmi Narasimha Swamy Temple
7 KM From RS Rangapuram Betamcherla Town
5
Sri Rama Tirtham
Karnool
Lakshmi Narasimha Swamy
Sri Rama Lingeshwara Temple
16 Km from Aallagadda
6
Narasapuram
Karnool
Ahobila Narasimha Swamy
Ahobila Narasimha Temple
8 Km from Aallagadda
7
Kambagiri
Karnool
Lakshmi Narasimha Swamy
Kambagiri Swamy temple
Near Dhone Railway Station
8
Aadoni
Karnool
Lakshmi Narasimha Swamy
Urukunda Veeranna Swamy Temple
25 Km from Aadoni Town
9
Rudravaram
Karnool
Lakshmi Narasimha Swamy
Lakshmi Narasimha Swamy Temple
25 km from Ahobilam
10
Balaji Nagar
Karnool
Lakshmi Narasimha Swamy
Lakshmi Narasimha Swamy Temple
Balaji Nagar, Stantanpuram, Kurnool
11
Urukunda
Karnool
Ernna Narasimha Swamy
Ernna Narasimha Swamy Temple
Near Aadoni town
Hyderabad
S.No

Village /Town Name
District Name
Deity Name
Temple Name
Location
1
Banjara Hills
Hyderabad
Lakshmi Narasimha Swamy
Lakshmi Narasimha Swamy Temple
Banjara Hills
2
BHEL
Hyderabad
Lakshmi Narasimha Swamy
Lakshmi Narasimha Swamy Temple
BHEL Township
3
Chaitanyapuri Colony
Hyderabad
Konagandla Narasimha Swamy
Narasimha Swamy Temple
Between two Stones
4
Jeedimetla
Hyderabad
Nallagutta Lakshmi Narasimha Swamy
Lakshmi Narasimha Swamy Temple
Jeedimetla Bus Depot
5
Koti
Hyderabad
Lakshmi Narasimha Swamy
Lakshmi Narasimha Swamy Temple
Koti to OU Route
6
Marwadi Basti
Hyderabad
Lakshmi Narasimha Swamy
Lakshmi Narasimha Swamy Temple
Marwadi Basti
7
Moosapet
Hyderabad
Lakshmi Narasimha Swamy
Lakshmi Narasimha Swamy Temple
Moosapet
8
Mustakpura
Hyderabad
Lakshmi Narasimha Swamy
Lakshmi Narasimha Swamy Temple
Mustakpura
9
Parvathapur
Hyderabad
Lakshmi Narasimha Swamy
Lakshmi Narasimha Swamy Temple
Parvathapur
10
RP Road
Hyderabad
Ugra Lakshmi Narasimha Swamy
Lakshmi Narasimha Swamy Temple
Secundrabad
11
Ahobilam Mutt
Hyderabad
Lakshmi Narasimha Swamy
Lakshmi Narasimha Swamy Temple
Ahobilam Mutt Branch
12
Zeer Mutt
Hyderabad
Narasimha Swamy
Lakshmi Narasimha Swamy Temple
Secundrabad Railway Station
13
Charminar
Hyderabad
Lakshmi Narasimha Swamy
Lakshmi Narasimha Swamy Temple
Asra Hospital Charminar
14
Kaithabad
Hyderabad
Bhanda Narasimha Swamy
Narasimha Swamy Temple
World Famous Ganapathi Temple Hyderabad
Karnataka – Bagalkot
S.No
Place
Deity
Address
1

Achanooru

Sri Lakshmi Narasimha Swamy
Sri Lakshmi Narasimha Swamy Temple
Situated at 2 kms, off Bagalkot to Aalamatti dam road.
2

Galagali

Sri Lakshmi Narasimha Swamy
Sri Lakshmi Narasimha Swamy Temple
Bagalkot district, Jamakhandi taluk.
3

Shurpali

Sri Lakshmi Narasimha Swamy
Sri Lakshmi Narasimha Swamy Temple
Around 8 km from Jamakhandi.
Karnataka – Bellary
S.No
Place
Deity
Address
1

Kolagallu

Sri Lakshmi Narasimha Swamy
Sri Lakshmi Narasimha Swamy Temple
Approximately 30 km distance from Bellary towards Kolagallu.
2

Rangapura

Shri Ugra Narasimha Swamy
Shri Ugra Narasimha Swamy Temple
Hoovina-hadagali Taluk, Bellary District
Karnataka – Bangalore city
S.No
Place
Deity
Address
1
Malleswaram
Sri Lakshmi Narasimha Swamy
Sri Lakshmi Narasimha Swamy Temple
15th Cross, Mallreswaram, Blre-560003.
2
Balepet
Sri Lakshmi Narasimha Swamy
Sri Lakshmi Narasimha Swamy Temple
Near Majestic theatre, 1km from Majestic bustand
3
VahniGiri Hill
Sri Lakshmi Narasimha Swamy
Sri Lakshmi Narasimha Swamy Temple
Bannerghata Village, Near National park
4
Thyagarajanagar
Abhaya Lakshmi narasimha swamy
Abhaya Lakshmi narasimha swamy Temple
7th cross, 7th main,III block T.R.Nagar, Blre-28.
Karnataka – Bangalore Rural
S.No
Place
Deity
Address
1

Yelehanka Old town

Sri Lakshmi Narasimha Swamy
Sri Lakshmi Narasimha Swamy Temple
Situated from Bangalore to Yalahanka old Town 16 km.Bangalore to Bellary NH4 Highway.
2
Yelehanka old town
Shri venugopala (Buruda kambada Narasimha)
Sri Lakshmi Narasimha Swamy Temple
Situated from Bangalore to Yalahanka old Town 16 km.Bangalore to Bellary NH4 Highway.
3

Bagaluru-Chagletti

Sri Lakshmi Narasimha Swamy
Sri Lakshmi Narasimha Swamy
Situated from Bangalore to Yalahanka old Town 16 km.Bangalore to Bellary NH4 Highway.
4

Doddballapur

Sri Narasimha Swamy
Sri Lakshmi Narasimha Swamy Temple
Doddballapur-Railway Crossing
5

Ghati

Ghati Subramanya
SriSubramanya Narasimha Swamy Temple
60 Kms from bangalore
6
Gopinath Betta
Sri Narasimha Swamy
Sri Lakshmi Narasimha Swamy Temple
Near Nandi hills
7
Sugganahalli
Sri Kambada Narasimha swamy
Sugganahalli Sri Kambada Narasimha swamy Temple
From Bangalore 75 kms ( Blre-Kunigal)
8
Kurunegere
Sri Yoga Narasimha Swamy
Kurunegere Temple
Chakallur Post, Channapatna From doddamallur – 4kms
Karnataka – Koppal
S.No
Place
Deity
Address
1

Kanakagiri

Sri Kanakachala Sri Narasimha Swamy
Sri Kanakachala Sri Narasimha Swamy Temple
Located in the town of Kanakagiri, in the Gangavathi taluk of Koppal district. Kanakagiri is about 43 km from the district headquarters Koppal city.
Karnataka – Mandya
S.No
Place
Deity
Address
1

Akki Hebbal

Sri Lakshmi Narasimha Swamy
Sri Lakshmi Narasimha Swamy Temple
This temple is situated at a distance of 15 km from K.R.Pete, in Mysore to K.R.Pete direction.
Karnataka – Raichur
S.No
Place
Deity
Address
1

Chikalparvi

Sri Ashwatha Lakshmi Narasimha Swamy
Sri Ashwatha Lakshmi Narasimha Swamy Temple
55 kms from Raichur district and 10 Kms from Manvi town
2

Koppara

Sri Vriksharoopi Narasimha Swamy or Sri Koppara Narasimha Devaru (Shodasa Bahu Narasimha Moorthy)
Sri Lakshmi Narasimha Swamy Temple
64.5 Kms from Raichur Railway Junction on South Western Railways.
Karnataka – Shimoga
S.No
Place
Deity
Address
1

Bhadravati

Sri Lakshmi Narasimha Swamy
Sri Lakshmi Narasimha Swamy Temple
29 kms from Shivamogga towards Bhadravati
2

Kudli

Shri Chintamani Narasimha Swamy
Shri Chintamani Narasimha Swamy Temple
15kms from Shimoga.
Karnataka – Vijaypur
S.No
Place
Deity
Address
1

Hadalageri

Sri Lakshmi Narasimha Swamy
Sri Lakshmi Narasimha Swamy Temple
15 kms from Muddebihal towards Hadalageri
2

Muttagi

Sri Lakshmi Narasimha Swamy
Sri Lakshmi Narasimha Swamy Temple
Located near Jamakhandi-Bilagi road.
Kerala
S.No
Place
Deity
Address
2
Thrikkovil Srinarasimha Swamy Temple
Arangotukara
Arangotukara Is A Village In Thrissur District, Kerala State, India.  But In Reality Arangotukara Is A Twin Village Consisting Of Two Portions.
One Portion Is Known As Arangotukara (Also As Arangode And Kizhakkum Muri) Which Is In Thrissur District And The Other Portion Is Known As Ezhumangad (Also As Padinhjattum Muri)
3
Thuravoor Srinarasimha Mahakshetram
Also Called As Vadakanappan Or Vadakanathappan Temple.
Srinarasimha Swamy
&
Srisudarshana Moorthy
This Ancient Devasthanam Is Located By The Side Of Nh-47, Approximately 25 Kms South Of Kochi City.
Thuravoor.P.O, Cherthala – 688532, Kerala – India
Phone: 91-478-2563050 , Email: Tvrtemple@Gmail.Com / Info@Thuravoortemple.Org
Official Website – Http://Www.Thuravoortemple.Org/
4
Chelakkara
Grammam ,Chelakkara, Thrissur, Kerala ( South ) – 680586.  Ph-90203 83563 / 9995777475
2 Kms From Kottappuram
5
Kunjallur Srinarasimha Moorthy Kshetram
Kunjhallurappa
Kunjallur Sri Narasimha Moorty Kshetra Samrakshana Samithi  (Reg.279/01), Purameri (Po) Vatakara (Via),Calicut (Dst), Kerala 673503 (Pin) ,India Route – 1/2 Kms From Purameri Situated In A Locality Known As Kunjallur At Purameri, Calicut District, Kerala  Email: Narasimha.Temple@Gmail.Com Temple Office Land Line : +91 496 2553848 / Suneesh Namboothiri: 09742746489 / Udaykumar.O.P:  +91 9446446616
6
Vazhenkada
Sowmya Srinarasimha Moorthy
Vazhenkada(P.O), Anamangad(Via), Malappuram(District), 679357(Pin)  Kerala Phone No. +91-9744510066 . Situated 13 Km. Southeast Of Perinthalamanna And 8 Km. From Cherpulasseri The Temple Is On The Side Of The Thootha-Vettathur Road,2 Km. From Thootha On The Cherpulasseri-Perinthalmana State Highway And 4 Km. From Karinkallathani On The Palakkad-Kozkikkode National Highway 213 . He Nearest Railway Station Is At Angadippuram On The Shornur-Nilambur Route.The Nearest Airport Is At Calicut

Thoravoor

Kerala

Kuranjiyur

Kerala

Chengannur

Kerala
Tamil Nadu – Coimbatore
S.No
Place
Deity
Address
1

Kuniamuthur

Lakshmi Narasimha
Coimbatore, mettupalyam stop at Vependi
2

Pollachi

Swayambu Lakshmi Narasimha Swamy.
Pollachi- Palghat Road Railway Gate Next stop
3

Taalakarai

Lakshmi Narasimha Swamy.
Avinashi-18 kms and Tiruppur -35 Kms
5

Veerapandi Nayakanur

Lakshmi Narasimha Swamy.
This place is located at 20Kms in the Coimbatore-Mettupalayam main road
6

Sri Devi, Bhu Devi Sameta Sri Lakshminarasimha Swamy

Sri Lakshmi Narasimhar  – Amritavalli
Tirukkuraiyalur, Sirgali,Nagapatnam, Tamil Nadu
7

Sri Kattazhagiya Singperumal

Sri Kattazhagiya Singa Perumal – Mahalakshmi
Srirangam, Tirchy Dist. Tamil Nadu
8
Sri Lakshmi Narasimha Swamy
Sri Lakshmi Narasimhar  – Mahalakshmi
Halakkarai,Tiruppur, Coimbatore Dist, Tamil Nadu
9

Sri Lakshminarasimha Swamy

Sri Lakshmi Narasimhar  – Maragatavalli
Narasingapuram, Perambakkam, Tiruvallur Dist.
10

Sri Lakshminarasimha Swamy

Sri Lakshmi Narasimhar  – Kanakavalli
– Tindivanam, Villupuram Dist.
11

Sri Lakshminarasimha Swamy

Sri Lakshmi Narasimhar  – Mahalakshmi
Tirunelveli, Tirunelveli Dist.Tamil Nadu
12

Sri Lakshminarasimha Swamy 

Sri Lakshmi Narasimhar  – Mahalakshmi
Nanganallur – Chennai, Tamil Nadu
13

Sri Yoga Narasimhar

Sri Yoga Narasimhar  – Narsingavalli
Otthakadai- Yanamalai –  Madurai Dist., Tamil Nadu.
14

Swarnalakshmi Narasihma Swamy

Sri Lakshmi Narasimhar  – Amritavalli
Tirukonar Palayam, Erode Dist, Tamil Nadu
Sri Lakshmi Narasimha Swamy

Anthili

Sri Lakshmi Narasimha Swamy

Thalakkarai

SLN – Odathurai

Trichy

SLNS – Singar Koil

Velur

Tamil Nadu – Hosur
S.No
Place
Deity
Address
1

Gumlapuram

Sri Lakshmi Narasimha Swamy
2

Malola Agraharam

Sri Swayambhu Lakshmi Narasimha and Sridevi Bhoodevi Sametha Sri Adi Narayana
3kilometers from Devanganapalli and close to Rameyana angrahaam. Hill temple, 18kms from hosur-thali road
3

Moornapalli

Sri Abhaya Lakshmi Narasimhar, Sridevi Bhudevi Sametha Sri Varadarajara As Utsavar
From Hosur around 4 kms
4

Narasapuram

Ugra Narasimha and Mahalakshmi
From Hosur around 30 kms
5

Raamayen Agraharam

Lakshmi Narasimha
43 kms from Hosur Near Madakondapalli
6

Denkani Kottai

SRI GAVILAKSHMINARASHIMA
Hosur to dengani kottai Buses ,autos, taxis are available
7

Utthanapalli
SRI ABHAYA HASTHA SWAYAMBHU LAKSHMINARASIMHA SWAMY
This is located close to Onnalavadi in the Hosur Rayakkottai road. Near Agaram Muruugan Temple
Delhi

Narasimhapur

Delhi
Punya Kshetra
---