Marjara Kesari Narasimha
Gandhamardhana mountain in this spot fell off the huge mountain that Hanuman
was carrying to save lakshmana in Srilanka. This moutnain peice may also have the most coveted herb, Sanjeevini. Hence this place hosts a lot of ayurvedic research intitutes.
It is said that Srirama came to this spot to kill mushika Daitya. Mushika was born from Ravana and a mouse(Mushika who is Vinayaka's vehicle) with sage udang's daughter Malini. Ganesh Vahana Moushika and Ravana had darshan of Malati the beautiful daughter of sage udang. Later the son born of malati ate her after birth and he was known as Mooshika Daitya. Rama took the form of a cat (Marjara) and a boy of a lion (Kesari) to kill this rat demon.
A sabar tribal lady Jamuna Kandhuni and her husband Hari were in the forest and foun the Narasimha Shaligrama under a mound of Mud. When they were cutting for the root of a specific plant to eat, they saw blood coming out of the shaligrama. Then a voice guided them to worship the Shaligrama. They devotedly worhsipped Narasimha and Lord Narasimha himself appeared in Jamuna's dream and explained about himself to both Jamuna and Hari. Later King Baijal Dev – King of Patna-garh had also got a similar dream and constructed the current temple in 1413AD march 17th on a saturday.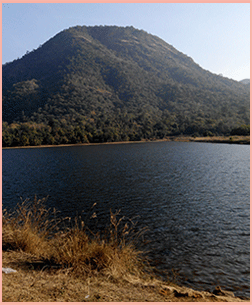 Some time ago this Shaligrama was stolen. When the temple authorities came to know they substituted the main diety with another shaligrama. Later the robbers could not move the shaligrama from Sambalpur railway station. They were suprised that the shaligrama became so heavy that they could not hold it and left it in the railway station and ran away. The lord was brought bhack and to this day 2 narasimhas are worshipped, the original and the one place when he went to sambalpur!
This place is very dear to Lord Shiva. Once Shiva accidently killed a cow. To cleanse him of this sin, he travelled all over the world but he could not clear this sin. It is said that shiva came here and took a dip in the flowing waters and from that day that spot is called go-hatya papa vimochana kund. The surrounding is simple amazing and extra ordinary.
Sage Kapila also did tapas and there is a water fall in his name called kapila dhara. The pandavas also came here and sahadeva who loved to rear cows has a special affinity to this place. This spot is called panch pandav. Asti visarghan is also done here near panch pandav. Bheema also made his own bathing spot and this is called bheem dhara. Sita kund is a spot where sita took bath during van vaasa.
There are 2 ways to make it to kapil dhara.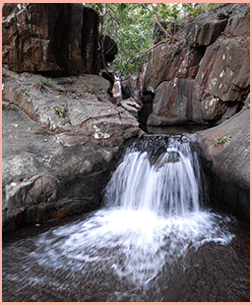 One by steps and the other by road. From kapil dhara a trek of 9 Kms leads us to the birth of the river which joins mahanadi.
To this day the sabar tribals decendent Sri Anirudd Mallik also worships the deities along with the pandas. This place is truly unique as it has pujaris from different castes.
The best way to reach here is from Khariar Road – pronounced Khadia Road or Naupara Road pronounced Naupada. These are stations on the raillink from Vizag to Raipur.
From the station take a bus to Paikamal (30kms – 30Rs), and from Paikamal a short ride to the temple (5 kms)
Temple function is on Narasimha Jayanti in Vaishaka.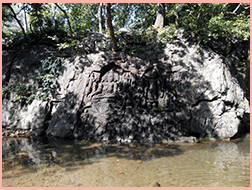 Contact persons
Anirudd Mallik – 0-9556184914
Subodh Panda – 0- 9437759546 available on the same number is purushotam pradhan the EO of the temple. This place has clean and good facilities to stay and I recommend a week here.
Additional Assistant Commissioner Of Endowments, Sambalpur
Presently Mr. Choudhary Prabir Kumar
Presidant, The Nrusinghanath Temple Trust Board
Presently Mr. Raghunath Mundari
B.D.O Paikmal
Executive Officer, The Nrusinghanath Temple Trust Board
Presently Mr. Purusottam Pradhan
Nrusinghanath Temple
At-Durgapali Po- Paikmal
Pin-768039 Dist.-Bargarh
Orissa, India
Tel: +91-06684-230514
Cell: 9437534862